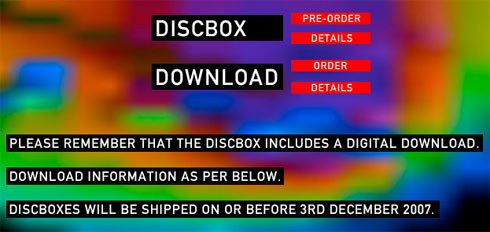 No announcement on dead air space or inrainbows.com. And no rumblings on the net save for this report about one fan receiving it early. But today, Saturday Dec 1, is the last day for Radiohead to make good on its promise to ship the Diskbox version of In Rainbows "before 3rd December 2007."
So it begs the question: Are the packages in the mail? Will legions of fans worldwide receive early holiday presents in the coming week?
Only time will tell. Let the anticipation build!
::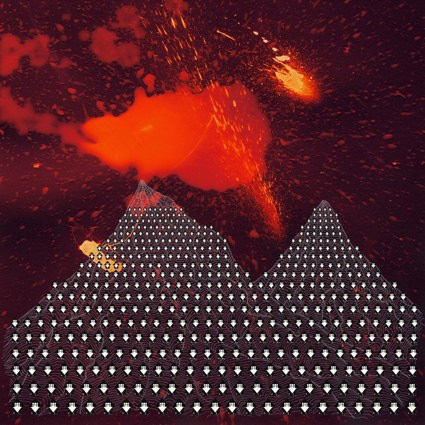 Volcano Estate, an image from the In Rainbows Diskbox.
Update 12/6. The answer of course is yes, Radiohead did begin fulfilling the Diskbox orders as they said they would.
Now the ordeal is over, I've taken a step back and have been thinking about the whole In Rainbows experience. While the band is to be commended for its work at changing the contemporary music model, something about the method of release has left me divided. Maybe I'm just coming down from two months of Radiohead excitement, but now that's I've heard the album in its entirety, I'm somewhat disappointed. To be sure, the record is good with its stretches of characteristic brilliance, even if the mood is dour and unwelcoming. It's funny, for a product titled "In Rainbows" the principal color I associate with it is grey. For some reason though, I'm having a hard time "connecting" with it.
I also can't seem to find any artistic reason for splitting the release into two CDs. Its total running time is 79:30, just shy of a single CD's limit. Disc two isn't especially different than Disc one. In fact, if you listen in iTunes, the transition from Videotape to Mk 1 is virtually seamless. It just stikes me as a bit exploitive I guess. Maybe when the "real" CD is released, all the songs will be on a single disc for those who don't need the extravagance of the Diskbox.
InRainbows.com is still taking orders for the Diskbox (made to order), but you only have until December 10 to grab the pay-what-you-want mp3s of the first disc.