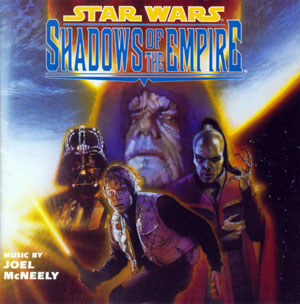 In 1996, LucasFilm embarked on a multi-channel marketing project in an effort to make more money off the aging Star Wars franchise. The result was Shadows of the Empire, a venture that involved all the machinations of a movie marketing and tie-in campaign, without the production of an actual movie. In total, the endeavor included a novel, comic books, video games, trading cards, toys (of course) and, most relevant to this site, a soundtrack.
Not surprisingly, John Williams was approached to compose the score, but he declined, instead recommending Joel McNeely for the job.
McNeeley's results are quite surprising and offer a unique look at Star Wars music. In contrast to Goldsmith's approach with SG-1, McNeely almost completely abandons the established music for the franchise. Beyond the opening titles, there's scantly a mention of any Star Wars motif or cue. No location cues for places featured in the films, and no character motifs save for a short mention of Leia's theme. There's a single quote of the "rebel fleet" cue from the end of The Empire Strikes Back and brief blast of the force theme. The Imperial March makes two brief appearance. Beyond that, the music is wholly original.
Listening to the soundtrack this past week, I couldn't help but hear this music as I would some romantic-era "program music." Indeed, that's what Shadows of the Empire essentially is. As a soundtrack without a film, each track works as a symphonic poem that exists to convey the ideas, settings and emotions of the story, without being tied literally to the images on a screen, leaving sonic imprints of peoples, places and events that can only be imagined.
Easily highlighting the score is track seven: The Seduction of Princess Leia, which is built around a fabulous freakin' waltz, a first for Star Wars. The rest of the album is equally intriguing, invoking fantastic settings in a way reminiscent of the late romantics. Imagine Debussy or Holst writing music for Star Wars; the results would probably be similar to this.