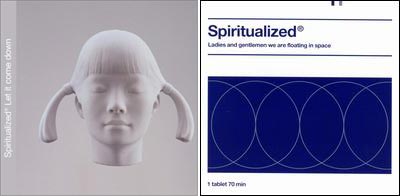 every time i run across spiritualized, i enjoy it that much more. and the funny thing is, i've never really sat down and given the group the attention it deserves. like passing acquaintances from a bar scene, i've only bumped into the band's music a handful of times, despite having it in my library for nigh on five years now.
it's a real shame too, because i should have been a better friend to the group. i got let it come down and ladies and gentlemen, we are floating in space in quick succession during the great music dump of 2001, an event that i'm still dealing with in terms of listenage. it was a year of seismic change in my musical listening patterns and spiritualized got lost in all the, well, noise (that's a pun, if you aren't familiar with the band's music.)
but that goes back to one of the reasons why i am undergoing this tunequest: to unearth my lost musical treasures.
oh, this music will pin you to your chair there's so much sound.