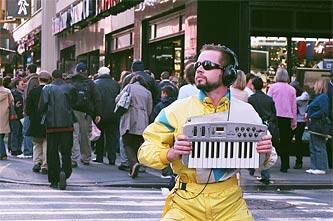 Anyone who's been around tunequest for a while surely knows of my fondness for The Polish Ambassador, the Earth's greatest half man, half cyborg, all electro-groovin' diplomat. Anyone who is new around here should get up to speed by reading my write-up of his debut album, Diplomatic Immunity.
After posting that review, I sent a list of questions to the Ambassador, inquiring about his species, his adventures, his artistic methods and, of course, his jumpsuit. Read his responses below and learn about this enigmatic officer of good will and intergalactic dancetasticsm.
::
Mr. Ambassador,
Are there other Polish Ambassadors bringing good will and electrogrooves to other planets, or are you the last of your species?
I choose the name "Polish Ambassador" merely so humans could better relate to me. My true name and profession exist in an ethereal sense that humans do not possess nor understand. There are many of my kind traversing throughout the far reaches of the galaxy.
Sometimes we pass each other on our cosmic voyages spreading good will throughout the universe. We'll stop for a little while and say hello. It wouldn't be uncommon for us to share a hot cup of mate, perhaps eat some toast covered in the finest organic mayonnaise, and reminisce about the old days and the aural orgies we shared at The Academy.
You've recently moved your consulate from Chicago to San Francisco. What diplomatic opportunities do you hope to uncover there?
One thing I didn't expect coming to this planet is the havoc that the atmosphere would wreak on my delicate, boy-like skin. Most people don't know this but I have severe psoriasis and the moist climate of the Bay Area was mandated by my dermatologist, Dr. Friezenberger. Plus, the hilly topography will only further the development of my robust quadriceps. Thusly, I will be better able to perform my diplomatic duties. "Soft skin and huge legs are what make a man," is what my hermaphrodite wet nurse always said.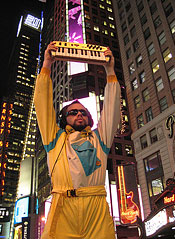 What's the greatest diplomatic incident you've ever had to deal with? Did it bring you glory or shame?
Once, while rollerblading along the Pacific Coast Highway, I witnessed a rainbow trout named Mohammed and a coho salmon named Isaac arguing about who has been the most influential Canadian of all time. Mohammed argued it was Mike Myers and Isaac retorted that only a trout brainwashed by celebrity culture could believe such a thing and that Mark Messier was the greatest Canadian to have ever lived. I quelled this debate by letting them know that they were both wrong and that the correct answer is, "Who is Alex Trebek."
They both immediately recognized that I was right, copulated at once, and began to produce a super-race of fish known today as Trebekian Troutmon.
Glory this brought to all. No doubt.
Where can all the kids get their own Polish Ambassador Jumpsuit?
You must collect 10,000 proofs of purchase from Cap'n Crunch Crunchberry cereals (part of a complete breakfast), send them into General Mills, and then in 6 to 8 months you'll get your very own one-size-fits-all Ambassador gear. Easy, right?
Any chance of a fact finding mission with live show dates?
Yes. I will connect with Earth people at the end of this summer if the Orb of Fortune aligns with the blue diamond of Pestulan.
What kind of advanced technology goes into creating your jams?
Harnessing the infinite.
Does that bonus track at the end of Diplomatic Immunity have a name? If so, what is it?
Yes. Internet Electrocution.
Speaking of song names, there's a little irony in that the titles to your purely instrumental songs have a certain lyrical quality. What goes into your naming process?
Where I'm from there is no such thing as free will. The names of these tunes have been ordained since the birth of time and are not up to me.
Tell me something cool about Poland.
Here's a cool thing about Poland: It's full of Poles. Sometimes you've just got to face facts. Polish folks are the ideal specimens of the human race.
They also have sublime dirt.
::
There, if this hasn't sated your appetite for all things Polish Ambassador or it simply made you hungry for sausage, continue exploring the farthest reaches of diplomacy at polishambassador.com, his MySpace page or get Diplomatic Immunity at the iTunes Store.
If that's not expedient enough for you, just check out The Lonely Perch and you'll get a general lay of the land: