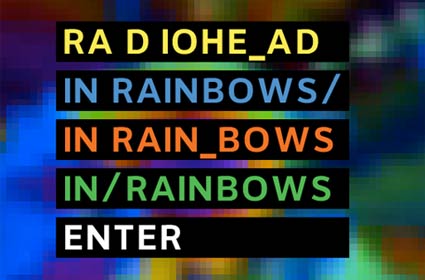 A very brief post at dead air space, the official Radiohead blog, informs the world that the band's first album in four years will be available for mass experiencing in ten days:
Hello everyone.

Well, the new album is finished, and it's coming out in 10 days;

We've called it In Rainbows.

Love from us all.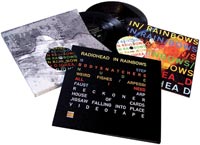 In Rainbows Discbox
The post links to the In Rainbows store site, which features a neat animated background with a couple options for pre-ordering the record.
The first is a physical "Discbox" version that includes the both a compact disc of In Rainbows, two vinyl records, a second cd with additional new songs, artwork and booklets and comes packaged in hardback book form. The entire set runs £40.00 (roughly USD$80) and isn't expected to ship until December. Buyers, however, will receive access to digital downloads of the album on 10/10.
The package looks pretty cool, but eighty bucks is a bit steep for an album, even one from Radiohead. Fortunately, Radiohead is as innovative in their business practices as they are in their music. Showing that the band "gets it" in the new millennial music world, a basic download version of In Rainbows will also be available on 10/10. But get this, there's no set price for it; you can pay whatever you want. The checkout screen brings up an empty field where you put in how much you're willing to give (in British Pounds and Pence) in exchange for ten new Radiohead songs. "It's up to you," the band says, "No really, it's up to you."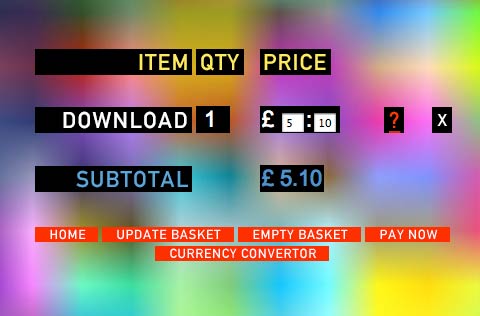 An iTunes-like rate of $0.99 per song converts to £4.84 for the entire album and that seems quite fair. The only thing that's not mentioned is the format and bitrate of the downloads. MP3, AAC, FLAC, other rights-managed or not? 128 kbps, 256 kbps? Radiohead, I'm sure, has come up with an equitable solution.
Also, at the end of the year though, I would love to see a chart of the range of prices people are wiling to pay. That would be fascinating look at the value consumers place on downloadable music.
For a preview, here's a live version of track 5: All I Need, recorded in Chicago, June 2006:
Additional live previews were compiled by Rawkblog this past July. Download away.