Note: The offer from iTunes has expired.
If you've been searching for a reason to try out the iTunes' much-promoted movie service, here's one that might just persuade you.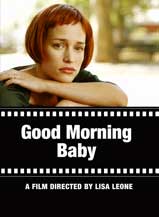 Free film: Good Morning Babyoffer expired.
Description from the store:
A confused woman struggles between two loves-a love for her so-called future husband and a love for a new found home. Falling off her envisioned map of life, she tries to find her true self and her true love.
It's gotten mixed reviews from iTunes users. Some people seem to love it, most don't though (avg 3 stars). Oh, and it's copyright Glamour Magazine, if that's any indictation of what you might be getting into.
The flick doesn't really seem like my typical fare. But, it's only 13 minutes long, and free, so maybe I'll try it out, just to see how the movie store works.
Films from the iTunes Store require Quicktime 7.1.3. The download is free, and don't be fooled; the email address is optional.