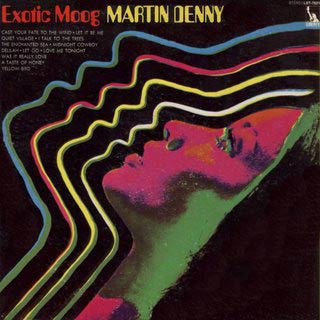 As promised, I dug up the column I once wrote about the legendary Martin Denny's infamous (and highly collectable) Exotic Moog record (1969).
It wasn't until after I wrote this that I learned that Denny didn't actually play any of the music on the record. In a 1997 interview with Cool and Strange Music Magazine, he revealed that Liberty, his record label, took control of the project and had ghost musicians perform and produce the whole thing. That part of the interview was not published until after Denny's death in 2005.
That might explain the record's apparent lack of focus. I must say though, that to this day, it really is a fascinating listen, despite the somewhat negative tone of my original review. Parts of it are worth keeping, like A Taste of Honey, for example:
[audio:060525ATasteofHoney.mp3]
History is full of ambitious ideas that promise abundant pay-off. Yet when executed, they somehow fall short, despite the talent involved. Such as when classical orchestras try to play rock songs or western nations try to invade Russia.

Likewise, having Martin Denny put together a record using the Moog as the primary instrument would seem to be ingenious, promising an otherworldly spin on exotic music.

But there lies the problem. The record relies too much on the Moog as a musical force. This record is more an homage to technological advancement, rather than inspired musical arrangement. Even the liner notes focus on the progress of then-modern recording equipment.

The result comes off as a grand curiosity, not the phenomenon it should be.

Not that combining electronics with exotica creates an automatic disparity. It's just the opposite. The foreign sounds capable of being formed by the synthesizer are perfectly suited to the mind set of most mid-20th century exotic composers and by 1970, the earthly exotic realms had been exhaustively examined by exotica's masters.

On the heels of the moon landing, it was natural to want to investigate an extraterrestrial musicscape. Still experimental, the Moog had recently come into being. Finally, there was an opportunity to explore the music of the future.

I, for one, am glad that is not what the future became. While Exotic Moog is intriguing to listen to, the over-emphasis of the Moog leaves it sounding largely hollow and stale. The exceptions are the couple of songs where another live instrument is brought to the forefront.

Les Baxter's Quiet Village (which in its original version was Denny's first hit in 1957) is utterly butchered under the whine and groan of the Moog. On the other hand, A Taste of Honey never sounded so sweet. The Enchanted Sea drifts with ominous enchantment and Midnight Cowboy is a moving reinterpretation of John Barry's classic theme.

The hits are few and far between, but they land right on the mark.

Despite the overall substandard musical quality, this record is worth picking up for its standout songs and for its cultural and historical significance. But be warned, it is long out of print and extremely rare (and is something of a holy grail for Denny collectors).

Your best bets are used record stores or online dealers such as Hip Wax or eBay. A limited CD version combined with Les Baxter's "Moog Rock" may be available from those same sources. Snatch one up if you see it.