aka "rhythm by arithmetic"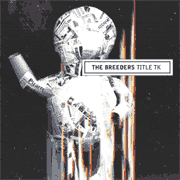 The Breeders disappeared for a very long time, taking nine years to release a follow up to their 1993 breakthrough Last Splash. But when they returned, they did with gusto, submitting a stellar album that proved that Kim Deal could still write some compelling music.
The following is a mellow groove, its steady rhythm demands your attention. It's unlike anything the band had attempted before and, I gotta say, it works. For your consideration, from Title TK, The She.
[audio:061208TheShe.mp3]

the full thing on plastic at amazon