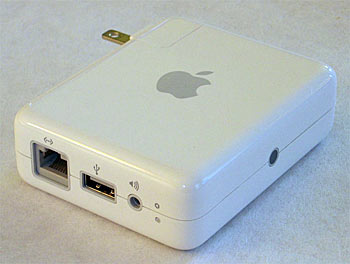 After more than two years offline, the sweet sounds of AirTunes once again bless the tunequest abode. AirTunes, of course, is the technology that allows wireless music streaming from iTunes to Apple's Airport Express wireless router.
A few years ago, shortly after the Airport Express was introduced, I picked one up for my apartment when I first moved to Atlanta. I was fortunate that my DSL modem hookup and stereo system sat near each other: the proximity made it simple to share my Internet among my computers as well as play my iTunes library from the office on the other end of the building. But when I later bought a house and moved out of that apartment, the stereo and Internet turned out to not be so conveniently located.
The Airport Express was repurposed exclusively for networking, leaving the stereo woefully underused (for some reason, iPods never quite sounded right with it). And so it remained, collecting dust until yesterday.
After putting off the purchase for quite some time, I bought a new wireless router to take over the networking duties (a Netgear Rangemax WPN824v2), and for nearly half price thanks to "Black Friday" deals. Set up of the new device was rather straightforward. Though not as elegant as the Airport solution, the Netgear offers a handful more features that are suited to a dedicated router, such as site blocking and dynamic DNS services.
Needless to say, after making sure the network was up and running, the Express found a new home under the stereo system. A quick reset and some relatively quick reconfiguration (the AX couldn't "see" the Netgear network, so I had to manually type its name), and I am once again able to seamlessly play my iTunes library in the living room and entertain the whole house if I want to.
Color me bliss.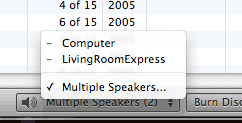 One thing that has changed with AirTunes since I last used it is the ability to stream to multiple locations simultaneously. Until iTunes 6.0.2 (01/2006), streaming was limited to one destination, either the computer or a single Express. Since then however, it is possible to play music from the desktop as well as up to six Airport Expresses on the same network (depending on network conditions) at the same time. I find that very cool as I can be working in the office, pick up my PowerBook and move to the den and not have any interruption in the music.
With OS X Leopard's Screen Sharing/VNC, I can quickly and easily control iTunes from my PowerBook as though I were sitting at my iMac. Plus, Party Shuffle suddenly got a lot more useful.