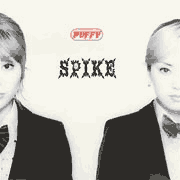 Puffy Amiyumi is a very mixed bag musically. Despite the girls' massive popularity in Japan (and moderate success in the States), I often find myself highly conflicted about their music. I can't decide whether it's superficial pop or subtle Japanese brilliance. Some of it is downright annoying and I occasionally consider purging it from the library.
But damn, these girls like to toy with my emotions, and put together something wonderful. With flashes of inspiration like this, I can't help but give them another chance.
[audio:061107CosmicWonder.mp3]
The song is COSMIC Wonder from the album Spike.