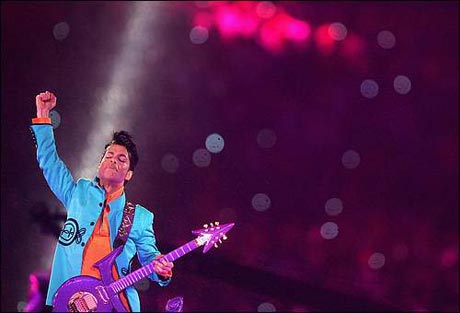 OK. I like Prince; let's just set that on the record. But after the recent Superbowl Halftime show, my respect for the man just tripled. I swear that was the best halftime show in recent memory, and possibly ever. Certainly much better than anything offered in the past few years, especially 2004's infamous profligacy.
Prince's performance was showy, but tasteful, spectacular, but not gaudy or opulent. But most importantly, his show reminded me of just how well he can handle an axe. Prince, as a celebrity and iconoclast, is notorious for many things, but one fundamental attribute that often gets overlooked is his mad skill on the guitar. Despite being noteworthy for it, few people when asked about the musician, would say "Oh yeah, he's that great guitar player." I'll be sure to bring that little tidbit up in future conversations about him.
The show had everything: his trademark showmanship, an enthusiast crowd, excellent production values awesome stage and pyrotechnics, and a top-shelf marching band adding copious amounts of soul. But it was the eclectic and quite surprising set list that made the show: a medley of cover songs and a to-die-for rendition of Purple Rain.
And really, it was the out-of-character selection of cover songs that truly made the show unique. We will Rock You, and All Along the Watchtower I can understand; those are classic standards these days. But watching Prince play Proud Mary, well, that was pretty much mind-blowing. But of course, the biggest surprise of the night was hearing a song that is far too new to be considered a classic, and not new enough to be considered a recent hit: Foo Fighters' Best of You from 2005's In Your Honour. A high honor, indeed, for Dave Grohl and the Foos, but it kinda validates some of my past criticism of the band.
Then there was the grand finale: Purple Rain in the pouring rain, a more perfect setting could not have been found. And that silhouette pretty much sums up The Artist himself, projecting himself larger than life.
If you missed the show or just want to relive the experience, check out this video. Do it quick before the NFL has it pulled off the site.