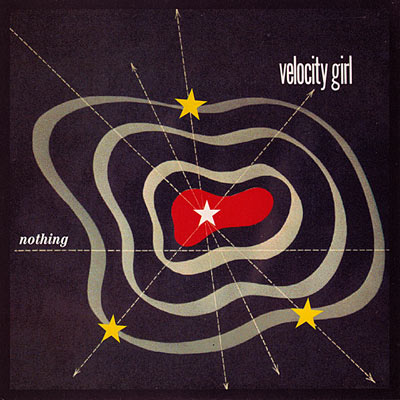 Free Listen: Anatomy of a Gutless Wonder
[audio:http://www.tunequest.org/download/VelocityGirl-AnatomyofaGutlessWonder.mp3]
Anatomy of a Gutless Wonder was one of the last songs released by Velocity Girl before the group's break up in late 1996. It's only available as the b-side to the 7" single Nothing from the group's final album gilded stars and zealous hearts. I picked it up (along with the Your Smiling Face single) directly from subpop.com in my early college days (summer of '97), when I was flush with dispensable cash. Surprisingly, a quick visit to the site reveals that the record is still available.
Despite owning a turntable and several LPs, I've never really been set up for vinyl–not quite portable enough. Thus, the song made its way from vinyl to cassette (and later mp3) in short order and in the 9 years since, it's never been out of favor. I'd love to be able to make a fresh rip, but my equipment is scattered across three states. It is a crisp, dreamy gem of a ballad featuring haunting melodies and Sarah Shannon's sweet sweet vocals.
It is among my favorite tracks in the band's catalog and, if this is indicative of the direction Velocity Girl were moving, it disappoints me further that the group broke up because the results surely would have been fantastic.
::
For the latter part of high school, Velocity Girl was easily my favorite band. I was introduced to them back in the good ol' days of late night MTV by either Alternative Nation or the venerable 120 minutes sometime in the spring of 1995. ¡Simpatico! must have been newly released because Sorry Again was the lead video on a night I happened to be watching in my darkened den.
I was quickly hooked, by both the song's jangly pop flavors and, every 90s indie boy's crush, chanteuse Sarah Shannon, making a mental note that night to remember to further investigate the band. Then, just as quickly as I was hooked, mister follow-through here forgot all about the song, video and band.
And so my love affair would have ended there, had I not been drifting through Cordova Mall some three months later. Friends and I wandered into a now-defunct record chain and did the usual bin-sifting and note comparing, since we had varied tastes in music. Finding nothing of interest after about 20 minutes, we prepared to exit the store.
As we walked toward the front register, I noticed the colorful cover of the now playing disc. I dredged up the months-old memory of the video and began paying attention to the in-store music. I think the song that was playing was 'labrador' and in an instant I made the second-rashest record purchase of my life.
And it was all downhill from there. I absolutely fell in love with the record and the band, going so far as to join an email list dedicated to them, which is a really uncommon thing from me to do, and set out to acquire their previous releases. For christmas of '95 in Pittsburgh I received Copacetic as a gift and the next day found the Sorry Again single at a local record store, something that would never happen in my hometown. The b-side to that, Marzipan remains one of my favorite songs of all time.
I kept up with the band via a small network of fan sites, including the Cyberpad (archive.org version), which stayed up, nearly unchanged for 8 and a half years after the band's demise. So devoted I was, that I also engaged in a little bootleg tape trading of some live shows, some of my first instances of doing so
In January of '96, I even exchanged a couple emails with Jim Spellman, Vgirl's drummer, imploring the group to play a show in Pensacola, to which he humorously replied:
We played in florida for the first time last year and really liked it. I am afraid we had a bad prejudice against Fl before that trip. We thought it was going to
be rednecks and death metal but the showa were great. A very pleasant
surprise. W e will definitly be back. You can check our web site in
march when our new album comes ou for specific dates. [sic]
Alas, it was not to be. The Gilded Stars Tour came nowhere near Florida and the group disbanded shortly thereafter.
Even though the group parted company those many years ago, their music lives on. And as long as I have it, I will keep listening.