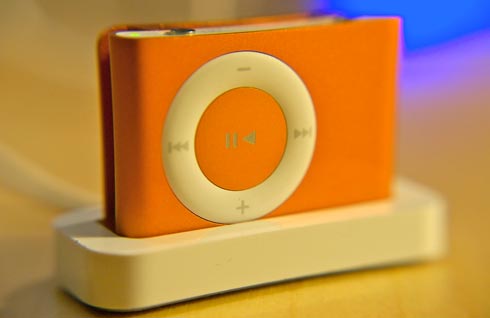 Thinking of an iPod Shuffle? Find one on Amazon.
Birthday season is in effect around the tunequest compound and themodernista kicked off the festivities by presenting me with my long-desired orange iPod Shuffle (2G) (which I have dubbed "Shuffleupagus"). I had been struck by the orange model since they were announced this past January, but despite its relative inexpensiveness, I could never justify purchasing one; I'm a fairly austere guy when it comes to material goods and all my iPod needs have been handled quite nicely by my 5G. Still, the gift is not unappreciated, though I am somewhat abashed to admit that it makes the seventh iPod in six years for a family of two.
After palling around with the device for couple days, I've made some observations. Overall, the iPod Shuffle is pretty sweet and the vibrant orange casing is quite the eye-catcher. Straightforward and easy to use, it provides no-thinking audio entertainment. I love my 5G-pod, but its daily use often involves effort, whether its assessing new music, adding star ratings, absorbing dense material such as audiobooks and podcasts or just plain searching for something I'm in the mood to hear. The Shuffle, with a suitable playlist, provides a worry-free, effortless and enjoyable experience and the one gigabyte capacity provides ample music for daily jaunts, commutes and errands.
That experience, however, does come with some caveats.
The iPod Shuffle's biggest strength is also its biggest weakness: the lack of a screen. The same brain-dead simplicity that allows for simple recreation also can be a hindrance in some situations. On my 5G, whenever I run into a track that might be corrupted or otherwise malformed, I mark it with two stars as a way to pull it out of rotation and set it aside for reevaluation at a later date. On the Shuffle, that's just not possible. And of course, when I can't quite place the name/artist/album of the song I'm listening to, I'm just out of luck trying to identify it.
Also, the unit provides no visual indicator for volume. It's hard to know exactly how loud the Shuffle is set without any visual feedback. I had it plugged into the tape adapter in my car and nearly blew out the speakers when a quiet classical piece transitioned to some bombastic Primus bass. Gave me quite the jolt too. In iTunes, however, you can set a maximum volume with a volume limiting slider.
Also, there's no internal clock. The vast majority of my listening habits rely on the heavy use of iTunes' Last Played Date. As a condition on my Smart Playlists, I use it to automatically refresh my listening selections, rotating recently played songs for those that haven't been played in a while. The first-generation Shuffle was noted for its lack of a clock and, unfortunately, its successor is no different. Without a clock, the Shuffle has no way to know when you've finished playing a song and thus can't update iTunes the next time you sync up. Instead, iTunes sets the Last Played Date to the time at which you perform the sync. While not quite as precise as I'd prefer, I tend to update my Pods frequently enough that it shouldn't disrupt my schemes significantly.
Then there's the size again. The thing is wicked small and keeping track of its whereabouts has proven bit elusive. A couple times already, I thought I had misplaced it or lost it under some paperwork when it was actually still clipped to my pocket. That's definitely a behavioral change that I'll have to adjust to.
Despite these minor inconveniences, and that's really what they are, inconveniences, the iPod Shuffle is a solid product. In the few days I've had it, I've already found myself reaching for it more often than my 5G when I want to sit back and relax. In fact, once I get going, I find myself hesitant to turn it off. The only thing I need to figure out now is how to shuffle-by-album (if that's even possible) rather than default shuffle-by-song.