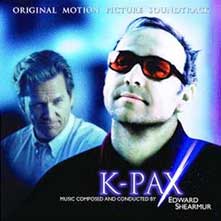 If I didn't already know differently, I would never have guessed that the soundtrack to K-pax was from a movie. indeed, it plays more like a backroom-in-the-club chill-laced downtempo record than a film score.
This is the only record by Edward Shearmur that I have, so I don't know whether this is out of the ordinary for him, but I must say that I thoroughly enjoyed it and I may have to check out his other works.
This revelation, however, adds the quandary of how to categorize it: it's from a movie, thus I've had the genre tag in iTunes set to "score," my catch all for movie music. But looking over at discogs' page for it, I found it listed under "ambient," "dub" and "modern classical" which are all appropriate.
So I'm considering changing it something more genre specific.
(I have a similar issue with The Mothman Prophecies, the score to which is closer to ambient minimalism than a traditional film music.)