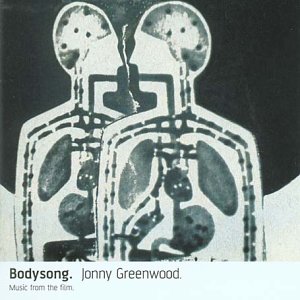 All the recent Radiohead hoopla reminded me about the band's other driving creative force: Johnny Greenwood. He's the lead guitarist and multi-instrumentalist responsible for a lot of those awesome riffs that Radiohead fans love oh-so-much (he tied with fellow band member Ed O'Brien as Rolling Stones' 59th and 60th greatest guitar players of all time). Besides his work in a rock band, Greenwood also composes music of a more classical nature. In fact, he's been the BBC's composer in residence since 2004.
His first solo release is Bodysong, the score to the 2003 film of the same name. I remember reading a little about it when it came out, but have just now gotten around to giving it a serious listen. Overall, the album's style is aligned with contemporary classical, but its exact nature is hard to pin down. It sweeps between orchestral strings, flighty jazz and mellow ambiance while maintaining a cohesive identity.
Unlike what is typically thought of as abstract/avant-garde music where the art derives from the sculpting of sound that isn't necessarily pleasant to listen to, Bodysong is largely recognizable as traditional music, though not with much pop sensibility. The music here is compelling, if not particularly catchy.
In the case of many of the score's more mellow tracks, it's tempting to describe them as "soundscapes," like a minimalist rising and fadings of tones. But the work here shows too much structure to be classified that way, with rhythm and percussion giving form to the formless. Greenwood's compositions are abstract without being inaccessible.
Of the thirteen tracks on the disc, Convergence and Splitter are the two highlights. Convergence takes a page from Steve Reich's book, feature overlapping layers of pure percussion that mesmerizingly diverge and converge with each other. It's hard to not try a pick out the various patterns. Splitter, on the other hand, is a freeform jazz piece that could easily be using the same New Orleans jazz band from Amnesiac's Life in a Glass House.
One of the more interesting results of Bodysong is how it reinforces the idea that Radiohead really is a functioning unit. Johnny's influence on the band's music is readily apparent in the soft piano of the album's opener as well as in the various electronic interjections.
Overall however, I was quite surprised by how listenable Bodysong is, despite being what should be "difficult but rewarding."
And a multi-track sampler from the film: