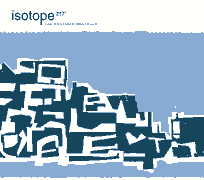 Originally called just "Isotope," the band changed its moniker to Isotope 217 to avoid confusion with the 70s experimental rock/jazz outfit of the same name.
But whether by direct inspiration or after-the-fact realization, I-217's modus operandi is remarkably similar to its nomenclatural predecessor, specializing in a kind of improvisational, "experimental" jazz, similar to the jazz+rock fusions of the 60s/70s, but updated for the late 90s. Released on Thrill Jockey, the group forms an intermingling triumvirate with Tortoise and the Chicago Underground Duo/Trio/Orchestra as well as a number of other Chicagoland side projects, sharing members, ideas and in some cases, melodies and song titles across multiple records and banners. It also shares those groups' ethos of merging the compositional prose of post-rock with the expressionism of jazz.
Though Isotope 217's later albums are somewhat less accessible, the group's 1997 debut The Unstable Molecule features some compelling grooves and is heavily centered around percussion, as is evidenced by Phonometrics below.
[audio:061210Phonometrics.mp3]

The Unstable Molecule at Amazon