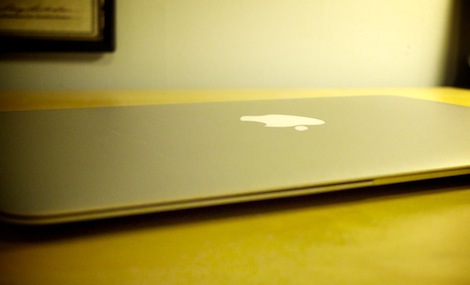 Hey folks. So I picked up one of Apple's new MacBook Air notebooks. I had been wanting a more portable computer than my trusty tote-able 2008 MacBook Pro and the new 11.6″ form factor was mighty tempting. I did spring for the BTO 4GB RAM upgrade, but I opted to stick with the stock 64GB hard drive.
My first impressions are, like a lot of other reviewers, that despite its relatively slow clock speed the machine is fairly snappy and capable of doing more than just writing and web surfing. Yes, you can do real work on this thing. You just might have to have some patience during certain tasks.
After using it for about a day, installing programs, copying files (WIFI only) and running some usage tests I've come to two principle conclusions:
For CPU-intensive computational tasks, the 11.6 model is a bit of a laggard (blame the slow CPU)
But for usage involving many open applications and background tasks, the thing flies (thank the SSD)
Some Numbers
No usage summary would be complete without a few benchmarks, so I put together a suite of tasks to compare the performance with the other Macs in my house. The contenders:
2010 MacBook Air 1.4Ghz Core 2 Duo, 4GB RAM, 64GB SSD
2008 MacBook Pro 2.4Ghz Core 2 Duo, 4GB RAM, 200GB HD (5400 RPM)
(some tests only) 2006 iMac 1.83Ghz Core Duo, 2GB RAM
The tests included start up time, video encoding, misc usage tasks and working a Parallels 5 virtual machine to do some geospatial analysis.
The Tests
Start up time
Winner: MacBook Air, by a lot
It was more than thirty seconds difference so I stopped counting. I could probably start the Air up twice before the Pro even reached the login screen.
Parallels 5: Boot identical virtual machines:
MacBook Pro faster by ~3sec
Parallels 5: Launch ArcMap 9.3 GIS software inside VM:
MacBook Air faster by ~15 sec.
I did this one twice and the result was the same both times.
Parallels 5: Suspend VM:
Tie: virtually no difference
Parallels 5: Wake VM:
Parallels 5: ArcMap: Spatial Autocorrelation analysis
Spatial Autocorrelation analysis is a computationally expensive process of searching for clusters of similar values inside geographic data. This task was run on a feature set of 3700 observations.
MacBook Pro by 59 sec
Parallels 5: ArcMap: High/Low Cluster analysis:
High/Low Cluster analysis is similar to Spatial Autocorrelation analysis. This task was run on the same feature set.
MacBook Pro by 60 sec
Parallels 5: Reboot of VM:
Launching Safari with Parallels and Aperture open:
Wake VM with Safari and Aperture open
Create a Par2 set from 110 MB of files:
Python script (time to task completion):
I've written a Python script that loads, parses and analyzes my iTunes XML file (~56 MB).
MacBook Pro: 40.5 sec
MacBook Air: 64.0 sec
iMac: 59.8 sec
Handbrake CLI video encoding
Convert a 1.7GB HD-Photo JPEG .MOV from my digital camera to a 900kbps mp4 using ffmpeg
MacBook Pro: 74 fps (fan kicked on)
MacBook Air: 47 fps (no fan)
iMac: 43 fps
Subjective Analysis
From the numbers we can clearly see that the faster processor in the 2-year-old MacBook Pro makes a big difference when crunching numbers. In all the CPU tests, the Pro performed the task in about 66% of the time as the Air. The real surprise (and disappointment) is where the Air barely keeps up with a 5-year-old iMac using an older chip architecture in the Python and Handbrake tests. (Though I suppose it shows that a 1.4 C2D can do the work of a 1.8 CD, which I'm sure helps with heat and power consumption).
One thing to note though, is that despite all the intense processor usage, the Air barely got warm. During the video encode test, while Handbrake was doing its best to max out both cores, the Macbook Pro's fan kicked on to full speed after about 1 minute. The Air on the other hand stayed cool and quiet the entire time. This bottom comfort is something my lap and legs are sure to appreciate.
But what the Air lacks in raw power, it makes up for in responsiveness. It's hardly possible to get it to hiccup, even when running tasks in the background. I was able to use Aperture to edit some RAW photos without any significant slowdown while copying 6 gigs of files to the Air. Kernel_task was chugging away at ~50% usage in Activity Monitor without any noticeable effect on the overall system performance.
And this is where productivity gains will be made with the Air. In all the tests above, the processes running were the only active applications and that's rarely how I work. I often have multiple browser windows open and Mail and who know what other apps going simultaneously. Look at the Safari launch test. With both Aperture and Parallels open, the Air launched Safari almost instantaneously while on the Pro it bounced in the Dock for 25 seconds. Similarly, Parallels' disk-based performance (waking the VM) slowed significantly when other programs were open competing for resources. If the Air can keep the dreaded beach ball from the showing itself, then I will be a happy, less frustrated Mac user.