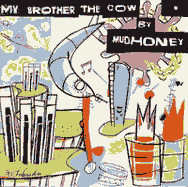 Mudhoney's My Brother the Cow, I think, is a fitting bookend to the "grunge" era. And though I didn't get into Mudhoney until the waning days of the movement, in retrospect it seems as though it was the most quintessentially grunge of all the big bands to come out of Seattle during that time. Nirvana was more pop friendly; Pearl Jam leaned toward hard rock; Alice in Chains and Soundgarden were imbued with a metal sensibility; but Mudhoney was the band the best encapsilated the grunge ethos.
My Brother the Cow was released at a time when the music world was leaving grunge behind. It was spring of 1995 and Cobain had been dead for a year. Post-grunge acts such as Better Than Ezra and Live were bringing a kinder, gentle form of rock to the masses.
But Mudhoney continued doing its own thing and produced this great album. I remember waiting especially eagerly for this record to come out.
In January of that year, I obtained a recording of "self pollution radio," a sprawling 4 hour radio show hosted by Eddie Vedder and friends. They had gotten together to spin some records and engage in intelligent conversation.
Those tapes three ninety minute maxells became my musical divining rod for nearly 2 years. The first song played was Sonic Youth's Teenage Riot and I was instantly transformed from casually interested in the band to hardcore fan. As the set progressed, I was introduced to forms of music both new and strange.
I heard songs months, and in some cases, years before they were officially released, including some Dave Grohl demo songs that would eventually be released as Foo Fighters.
The best part of the tapes, however, were the live sessions. Besides all the vinyl spinning, Eddie and company had arranged for a bunch of their friends to play a handful of songs in a make-shift studio.
Pearl Jam itself put in 2 sets with mostly material from Vitalogy.
Soundgarden put in a set, delivering Kyle Petty, Son of Richard and No Attention, both of which sound better on this performance than the studio versions released 2 years later.
Mad Season was there too and their performance inspired me buy their album when it was released a couple months later.
Which brings me back to Mudhoney, whose performance really kinda blew me away. I hadn't given the band much attention beyond their song on the seminal Singles soundtrack. but by the time the strutting bass line of What Moves the Heart had finished, I knew that I had to add this band to my collection.
I picked up Piece of Cake shortly thereafter and waited a couple months for My Brother the Cow. When I finally received it, I deemed it awesome and it quickly made its way into my frequent rotation. The music was great, but the thing that made it characteristically Mudhoney was the prankish sense of humor. My favorite part of the record was waiting for the last song to drain away to nothing, then come roaring back as the album started to play itself backward.
But just as this record seems to be the last defiant gasp of grunge, it was also Mudhoney's last hurrah for me. I listened to them vigorously for a couple years, but by the time the group's next album, Tomorrow Hit Today, was released in 1998 I had largely forgotten about them. But listening to My Brother the Cow again reminds me why I liked them so much in the first place.