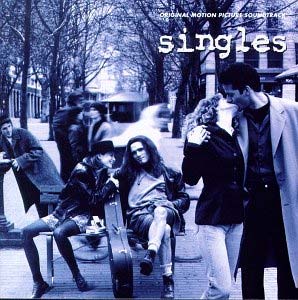 From the soundtrack Singles (1992)
This song is among the earliest in The Smashing Pumpkins catalog, recorded in 1992 for the motion picture soundtrack Singles. The film takes place in Seattle and heralds the coming of that city's grunge music, using the local scene as a persistent backdrop the personal and professional turmoil of a bunch of twenty-somethings. Allusions and references to the burgeoning scene abound within the movie. Soundgarden makes an on-stage appearance and members of Pearl Jam have a cameo as members of Matt Dillion's fictional grunge band, Citizen Dick.
It been more than ten years since I saw Singles and I don't really remember if it was good or not. I was a teenager enthralled by the music; the rest of the story mattered little to me. Once thing I do know for sure though is that the soundtrack is phenomenal. Not only is it a definitive statement about what the "grunge sound" was (and thus make it marketable to the mainstream), it features some of the best songs in the respective catalogues of the artists that appear on it.
Pearl Jam's State of Love and Trust is easily one of the group's finest compositions. Seasons is surely Chris Cornell's greatest non-Soundgarden work. Screaming Trees' Nearly Lost You, well, it just rocks. The real gem on the soundtrack though, is its closer: The Smashing Pumpkins' Drown. It's ironic that the album's superlative song would be from a band that lives 1800 miles away from Seattle.
I've loved Drown since the first time I heard it. The song is so dreamy and peaceful, evoking a wistfulness which is surprising, considering the massive amounts of layered distortion that is piled on top of itself. It's classic Billy Corgan, intimate when it needs to be, crashing to life at just the right moments. At more than 8 minutes long, it is an epic mind-bending journey.
[audio:070723Drown.mp3]
What I Love: Billy's soft but confident vocals. The distortion-steeped solo/outro.

short version

full version