In addition to all the hullabaloo about the new iTunes 7, here are the minor enhancements and changes I noticed while exploring.
Album Artist
There's a new music tag called "album artist." I'm not sure what it's used for yet, but it could be for compatibility with windows media files. UPDATE: From glancing around the interweb it seems as though album artist is in fact used by wma files, but i think iTunes 7 still doesn't play them (i don't have one to test). within iTunes, however, it looks like the tag is most useful for when a song has a guest artist in addition to the main artist, like Basement Jaxx featuring J.C. Chasez. Under the iTunes 6 scheme, I had been putting that info in the comment field. I'll let you know how it works, when I try this method.
It could also be useful for classical music in situations where a soloist or vocal is featured in addition to the orchestra. On that note, please allow me to plug my classical music tagging article, which was written for iTunes 6, but still applies today because of the iPod's shortcomings.
From Apple's support page:
iTunes 7 includes a new attribute for song files called Album Artist This allows you to assign a primary artist name for an album that many includes songs by several artists. It is important that all songs in the album have the same Album Artist name. To assign an Album Artist, select all the songs in the album and choose Get Info from the File menu. Next, type a name in the Album Artist field name such that it will apply to all the selected songs. This field can optionally be left blank if all the songs have the same album name.
Album Artist is not respected by the iPod, however, at least not iPod Software 1.2. Songs continue to be sorted by the Artist tag alone, which of course makes the new tag almost useless. I say, "almost" because I did find one use for it. Also, I have additional criticism of the Album Artist tag with regards to the iPod.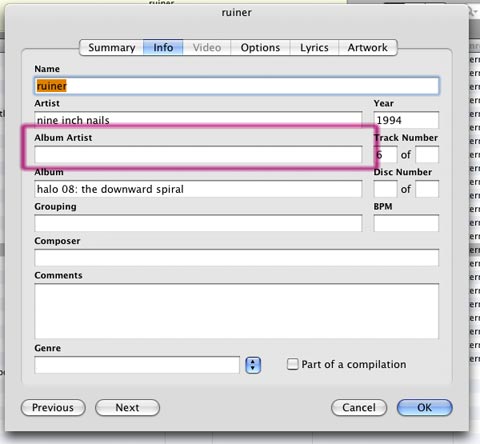 ::
New Album Sorting Options
The album column in list view also sports new sorting options. Click on the Album header. It'll switch between Album, Album by Artist (each artist's album sorted alphabetically), and Album by Year (each artist's album sorted chronologically). Click the triangle to reverse the sorting order.
::
Gapless and Crossfade
And it looks like you have to tell iTunes that your songs are gapless. If you're using Crossfade playback, click "Part of a gapless album" to keep seamless songs together. Look under the song options. Thanks Brian!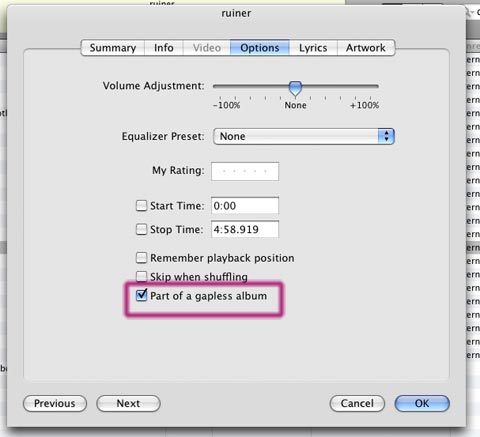 ::
New batch operations in iTunes 7: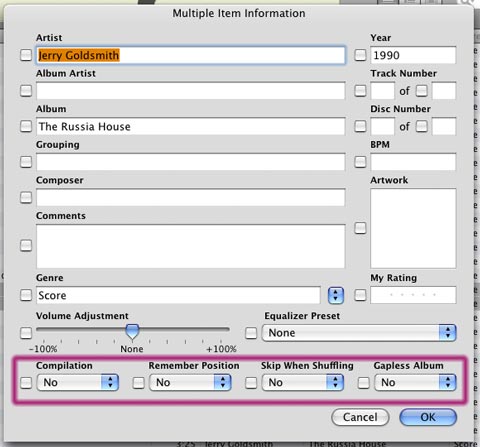 ::
Multiple Libraries
Hold down option (or alt) when opening iTunes to choose from multiple libraries. You can also create a new library from scratch and save it in a new location. iTunes will use this library as its default until another is selection using this same method.

::
New Smart Playlist Selectors


Then there's some new smart playlist criteria, including the afore-mentioned album artist, as well as the brand new last skipped and skip count.
Syncing Problems
Also, iTunes now lists all the problems it has syncing files with an iPod.