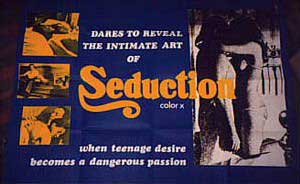 Continuing the tunequest within a tunequest today, I listened to a handful of tracks by Argentine composer Luis Bacalov during the morning's rainy commute to the office. Bacalov rose to prominence writing film music for 60s and 70s era spaghetti westerns and hard boiled Italian dramas. Prolific, he's got more than 140 composer credits to his name and even won an Academy Award in 1996 for Il Postino. More recently, he has gained some notoriety from several of his songs being included on Quentin Tarantino's Kill Bill soundtracks.
The track below, titled Nago, is from the 1973 Italian film La Seduzione, about a man who reunites with a former lover and then is seduced into an affair with her 15 year old daughter.
This thing is a swaggering waltz of funk. It gently lures you in with its sinister wah, sensuous horns and smooth smooth rhythm. But just when you think you know what it's all about, it morphs, ever so briefly, into a deep driving piano groove. Then, as if to say that as easily as things change, they can easily change back, it returns to it former self.
Tight.