(or, Initial Thoughts on the iPod Touch)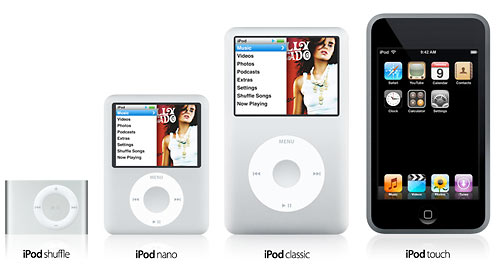 Weeeee… new toys from Apple! iPods iPods iPods, including shuffles in drab new colors (gimme orange), a new iPod NanoVideo (aka iPod Squat), an all-metal iPod Classic (the form we all know and love––now up to 160GB!) and a phoneless iPhone (aka iPod Touch).
Upon the availing of the line up this afternoon, I was immediately torn. In my mind, the iPod brand is essentially "a bajillion songs in your freakin' pocket––more songs than you could ever practically listen to but who cares because it's a bajillion songs! In your pocket!!" and the upgraded 160GB model is encoding a lot of digital saliva in tunequestland. The iPod has finally caught up to the point where I could realize the dream of fitting my entire library (all bajillion songs of it) onto a single portable device and that sounds like a lot of fun.
But Apple had to go ahead and simultaneously release that little portable wi-fi web browsing internet communication device, didn't they? More than anything since the iPhone was announced in January, the prospect of in-your-pocket internet has been very appealing. But of course, I already have a phone that does everything I need a phone to do, so I wasn't (and still am not) about to plunk down for the device. At the time I thought that if Apple wanted to unbundle the phone from the package, great, I'd look at it then.
And Apple has done just that with the iPod Touch and that is the source of my quandary.
The storage capacity of the iPod Touch's models is 8GB and 16GB, a major step down from what I'm used to. While I did fine for years with a 15GB model, I've gotten accustomed to lugging around roughly 40-50 gigs of music, podcasts, audiobooks, courses from iTunes U, videos, photos and data at any given time. The thought of having to cram all that back to 16GB or gasp!, 8GB, is anathema to my idea of what an iPod is.
Then a thought occurred to me…
I'm still quite happy with my 80GB 5.5G model. I've had it for almost a year and the only major disappointment I have with it is my recently discovered long audiobook problem. I've been especially surprised by the durability of its screen. It's not had any kind of protector and there's nary a sign of a scratch or mark. While the idea of a 160GB iPod Classic is a very compelling dream, I'm more than happy to continue using my existing hardware as my workhorse iPod.
But… what if I were to simply use an iPod Touch almost exclusively as an internet device, saving most of the traditional iPod functions for my 80GB? That would be the ticket.
And for a moment, with the Reality Distortion Field set to maximum capacity, I seriously considered that option. Then I quickly came to my senses. I've tried managing multiple iPods for different purposes and it's just too much effort. For a while, I tried to divvy up music and spoken audio (podcasts, books, etc) between two devices and invariably, I'd find that I didn't have the one I wanted at the moment I wanted it. Then there was the hassle of keeping them both synced, updated and charged. Before too long, I abandoned that idea. Besides, when one device can do most or all of what you want it to, there's really not much point to segregating the duties.
And the more I think about it, the less certain I become that I'd actually find a significant use for an iPod Touch. My multimedia needs are already handled by my 80GB and the vast majority of my wi-fi usage is done in my house, where there are four computers I have access to. Furthermore, based on the images at apple.com, I don't see icons for some of the traditional "Extras" provided on the iPod's interface, like Games and Notes (though I wouldn't imagine that they've actual been removed). And where's the note taking program to make use of that famous multi-touch interface? Other than for novelty, I can't really see myself getting one, that is, until the storage is increased. Though that might change if it turns out the the Touch has inherited the iPhone's PDF-reading capabilities. I've been wanting to make those portable documents truly portable.
But for now, the bottom line: I'm happy with what I got.
Of course, for me, this all a moot discussion unless iTunes 7.4 fixes 7.3's horrible sorting problems, which, at first glance it doesn't.
::
PS- Did anyone else notice that Music and iTunes are separate selectors on the Touch? I realize that using the term "iTunes" is Apple's way of differentiating pre-loaded music from on-the-go purchasing, but it strikes me that that this could be a subtle shift in the iTunes branding away from the "your personal jukebox" function and toward the store aspects. If you look at Apple's various iTunes pages, you'll see that the money-making features are more prominently displayed.