Lately I've been on a tear with audiobooks, managing to cram a number of books in between my regular music and podcast listening. The sudden upswing in interest has prompted me to renew my investigation of the problems the 5G (fifth generation) model iPod has with long-playing books. As I noted last summer, the 5G has troubles with homemade m4b files (bookmarkable AAC) longer than a certain play time.
The iPod will suddenly stop playing an audiobook within a few minutes and return to the main menu. This happens when resuming a book, after having listened to something else or resyncing the device, basically anything that stops rather than pauses the book. When selecting the book again, the iPod starts from the beginning, having lost the bookmark and updating the play count/date as though it had properly finished playing.
Since I knew I would be delving into book territory, I decided to figure out the optimum way of working around the iPod's inexplicable limitation. And really, for all my experimentation, the only concrete result I've been able to find is: 4 hours. 4 hours is about the maximum running time of any homemade m4b audiobook file before the iPod starts wigging out about it. It didn't matter what I used for my encoding settings, my sample rates, or bit rates or channels or workflow or program. No combination of settings allowed the iPod to play longer than 4 hours without a hiccup, always stopping in the middle of the same phrase.
I even tried this little ingenious trick: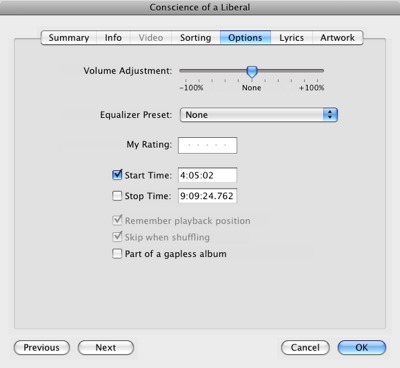 I manually set the audiobook's options in iTunes so that the start time was at the 4 hour mark, hoping to persuade my iPod to at least go for another 4 hours. No dice.
I can say however that the sample rate seems to have the most effect on how long you can listen before the iPod won't let you pick up where you left off. 22 kHz seems to be the trick. Whether your book is stereo or mono seems to matter little, giving about the same performance. Same for bitrate. However, higher sampling rates seems to reduce the amount of time before you lose the bookmark feature.
There probably are a handful more combinations and techniques I could try, but it takes quite a while to join, encode, test and evaluate each option. If anyone finds something with significantly different results, feel free to drop a line this way.

In the meantime, I'm glad Audiobook Builder can set a Maximum Part length and will split files so that nothing is longer than what I need them to be. It's a groovy little workaround.