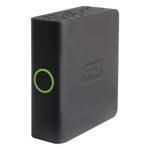 A couple months ago, I wrote about the advantages of maintaining a large digital music library, specifically with regards to cost and storage as compared to maintaining a large physical music library. One of my points was that the decreasing prices of hard drives makes it increasingly easy to store, as well as backup large quantities of high-quality music.
I even went so far as to say that "before too long" we'd see the $200 terabyte, which is roughly enough storage for 80 continuous days of lossless quality music plus a complete backup of it all.
Well, that day has arrived. OfficeDepot currently is listing a Western Digital My Book 500GB for $99 after mail-in rebate.
At that price, you might as well get two and secure all your digital media.