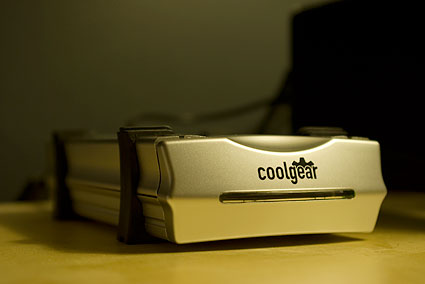 My new file storing powerhouse.
I like to keep my eye on on the price of hard disk storage. More storage more better is my philosophy. Not only can I never tell when I'll need an extra gigabyte or two for projects, but I'm justifiably paranoid about data failure and have become something of fiend for backups as a result. So I've been watching with interest as the price of 500GB drives have fallen at a steady clip since the beginning of the year.
My interest was piqued recently when I noticed that a number of external 500GB drives have been hitting the ~$100 area lately, which is nearly too good a deal to pass up. My enthusiasm was tempered though, by the observation that all the drives I found were USB 2.0 only. USB is no slouch and a fine enough protocol, but real file transfers, particularly large ones, are best left to FireWire. Unfortunately, FireWire versions seem to cost $50-$90 more than their USB-only counterparts.
So I did what I've done for the last 5 drives I've purchased: I looked into do-it-yourself solutions. Assembling an external drive from an internal one plus an enclosure is a trivial task and it helps you get exactly what you want. In the past, that approach has helped me save some cash at the same time.
Unfortunately, the gap in price between internal and external drives doesn't seem to be as great as it once was. Mail-in rebates can often bring the price of external drives to below that of internals. Realizing that I probably would be out of luck trying to save some dough, I set out to see how much I could get within the price range for an external 500GB hard drive with a FireWire connection ($160-190).
In the end, I think I did pretty well.