Part of the Thoughts on the Apple TV Series
Thoughts on the Apple TV: A Possible Alternative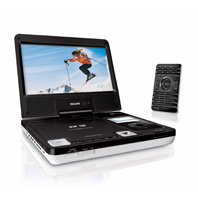 Though sold and marketed as a portable device, I've recently been intrigued by Philips' new DCP850 DVD player with integrated iPod dock. It boasts support for standard DVD, DVD+/-R(W), VCDs, DivX files, MPEG-4 files, compact discs, MP3s and photos. It also features an SD/MMC card reader for playing movies and photos via a memory card. The iPod dock, of course, charges the iPod and allows access to and playback of all the content on it.
It's not fancy wireless like the Apple TV, but the DCP850 certainly seems more versatile. At $199, it's $100 cheaper than the Apple TV as well.
Using standard A/V cables, the DCP850 can be connected to a television and I'm thinking I might eventually replace my DVP642 with it in my set-top setup. Being portable would just be a seldom-used perk. The device will accept and play all the DVDs and DivX files I currently have in my collection, plus any videos on my iPod, which tend to be transitory M4V files. And the SD card reader opens up a lot of possibilities for replacing the CD-RWs I currently use for temporary AVI files and non-H.264 M4Vs as well.
At the moment, the DCP850 is so new that there's not a lot of real world reviews of it, but I'm certainly keeping my eye on it.
More Info:
DCP850 at Philips.com
Review at ilounge.com
Get one from Amazon.com