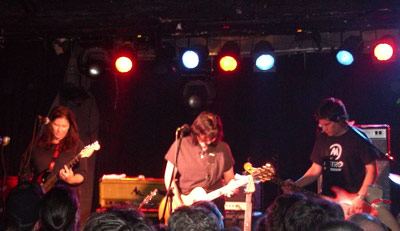 I just pulled in from midtown Atlanta, The Loft, specifically, where The Breeders just put on a hell of a show. I've been a big Breeders fan since the Last Splash days (14 years ago). Yet due to the band's somewhat sporadic history, tonight was my first opportunity to see them play live. And what a great performance they put on.
The band was in good form and in good spirits, clearly having a good time.
This was the last show of the tour (or as Kim Deal said at one point "the last tour of the show"). Maybe it was just road exhaustion, but the band was positively loopy. Or maybe everyone was just in a good mood. Jokes were told, funny faces were made and anecdotes were shared. At one point, Kim introduced the band's third guitar player Cheryl, mentioning that she was from Florida and asking who else in the audience was from there as well. In response to a number of "whooops" that erupted from the crowd, Kim said "We're from Dayton Ohio, so we got you there" and merriment ensued.
The show itself covered the gamut of Deal-related material, including songs from The Amps side project. In fact, the show opened with Tipp City, which happens to be one of my favorite Amps songs. Last Splash got some good treatment, with renditions of New Year, No Aloha, I Just Wanna Get Along, Divine Hammer, a sublime version of Drivin on 9 and of course Cannonball. A house-collapsing performance of Saints closed the first encore.
The Breeders latest album, Mountain Battles, was also well represented. Bang On, We're Gonna Rise, Here No More, Night of Joy, German Studies, Walk it Off and No Way all made appearances.
Noticeably absent though was much of the material from Title TK. Huffer was brilliant, but other than that I don't remember the band playing any other song from that album. Similar story with the songs from The Breeders' debut album, Pod. Only a handful from there as well: Iris, Happiness is a Warm Gun (Beatles cover) and one of my most favoritest songs ever Fortunately Gone, which closed out the second encore, the show and the tour.
A perfecting end note for a wonderful experience.
Given just how great a band The Breeders are, the sporadicness of its output can be quite frustrating. But going to bed now on a natural musical buzz, I can say that after seeing the band perform live, I have accomplished a life goal that's been with me for nearly one and half decades.
I leave you with Bang On, from Mountain Battles, performed Live in Atlanta, June 13, 2008: