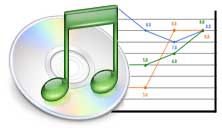 Anyone who has been reading the tunequest for a while knows that statistics, numbers, figures and graphs have played a large part in its progress. In fact, it was the discovery that 10% of my songs were responsible for 49% of my total play counts that prompted me to set out on this endeavor in the first place.
To this day, I'm still surprised by the lack of sophisticated options available for gathering and analyzing iTunes' stored data. That XML file has been a statistical treasure trove since the day it started recording star ratings and play counts. You'd think that in the four years since, there would be a more mature market of programs to choose from.
However, 2006 has actually seen some positive developments in that regard. While there is still no killer app for iTunes stats, there are a number of solutions for parsing your XML file and learning more about your music, and yourself.