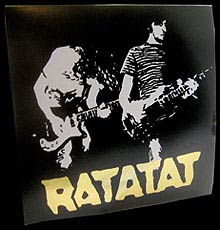 I don't know how I missed it, but Ratatat quietly released Loud Pipes as the third single from Classics a couple months ago. The record is out on vinyl only and, in addition to the title track, it features three attractive and compelling b-sides:
Loud Pipes (Outtakes).
Bears only the slightest resemblance to its namesake. The beat and instrumentation are there, but otherwise, it's a whole other song.
Kennedy (e-rock remix).
E-rock is Ratatater Evan Mast's brother. He turns in a competent re-working of Kennedy (also from Classics). His version sounds a little repetitive, but it has got some big sound behind it. There's also a nifty breakdown around the 5:20 mark.
Goose.
New track. Rhymes with Noose, the b-side from Germany to Germany. The song is the least-stated in all of Ratatat's repertoire. In stark contrast to the band's enormous sound, Goose is barely there. A simple baroque-esque melody over a quiet, high BPM thud-thud-thud. At less than two minutes long, the song is over before it gets started.
All in all, another fine release from Ratatat. Now when can we expect that next album?
Loud Pipes: $7.00 from Turntable Lab
Listen to Loud Pipes (Outtakes):
[audio:070807LoudPipesOutakes.mp3]