The iPod is supposed to be "iTunes to go" but as the little music player has advanced over the years, it still lags behind in some relatively basic features, features that have been a part of the desktop program for some time. iTunes' capabilities seem to be constantly improved and refined; its portable counterpart's behavior has remained relative unchanged, even as it has gained photo and video support.
Forget touchscreens and Bluetooth, FLAC and DivX; here, I present a list of the iPod's more troublesome foibles, all of which could be overcome with a firmware update, making it an even better music player.
Toggle display of the Composer tag
This is something I've wanted since Apple added the Composer field to iTunes five years ago: A display of the composer when listening to classical music. The 5G iPods have more than enough screen real estate to accommodate an extra line of text. It makes no sense that after all this time and after adding a way to browse and select by composer, Apple still doesn't allow a way to view it while playing. Classical music aficionados have to either do without or devise elaborate tagging systems to see who the composer of a piece is.
Of course, not everyone has need for composer display. There certainly are people who don't appreciate Prokofiev. Also, the field is often populated with junk from Gracenote/CBBD. A simple toggle in the iPod settings would fix that. Those of us who want to see the composer can turn it on and those who don't can leave it off.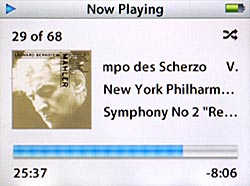 At a glance, there's no telling who the composer is. One hack, though, would be to embed the composer name in the album artwork.
Support for the Album Artist field
iTunes 7 introduced a new data field to the song info dialogue box: Album Artist. Apple says it's for assigning a primary artist to an album with multiple artists. It signifies a way to separate the artists producing the work from the artists performing it.
It's a great idea for classical works that have a featured soloist in addition to the orchestra or when one artist is a featured guest on someone else's song, eg, William Shatner featuring Henry Rollins. In this case, William Shatner is the primary artist and would be to sole "Album Artist" while "William Shatner featuring Henry Rollins" are the performing artists.
The tag works well in iTunes, keeping song listing nicely and tidily organized. The iPod, however, still separates "William Shatner" from "William Shatner featuring Henry Rollins," leading to a cluttered interface that is difficult to use. Most of my music listening is done via iPod, so Album Artist remains under-utilized.
Album Artist would be a very useful tag. It would even solve my dilemma for tagging remix/dj albums. But without iPod support, the tag is DOA.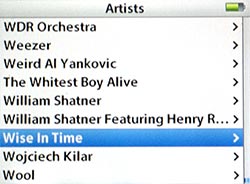 Despite having the same Album Artist, these listings are still displayed by regular Artist.
Full Support for Sort fields.
(accomplished)
UPDATE 3/19/08: Firmware version 1.3 for the Fifth Generation iPod adds support adds support for Sort Album and Sort Composer.
Other options recently introduced into iTunes but not into the iPod are customizable Sort Fields, which let you control how iTunes alphabetizes your artist and album listings.
By default, the iPod is smart enough to ignore "A," "An" and "The" at the beginning of artist names. The Chemical Brothers are sorted with the C's, for example. Starting with iTunes 7.1, you can customize the Sort name for Artists, Albums, Songs, Album Artists, Composers and TV Shows.
If you want Fiona Apple to appear with the A's rather than the F's, just set the Sort Artist to "Apple, Fiona" and you'll soon see Fiona next to Aphex Twin.
It's pretty cool, but…… on the iPod, it only works with Artists. You can customize all the albums and composers in your library and Gustav Mahler will still be chillin' with the G's and The Colour and The Shape will still be sorted with the T's.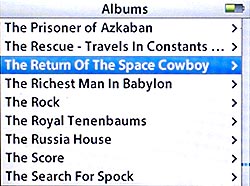 The "thes" like to hang out together in album view.
Browsable playlists
Music libraries get larger every day it seems. And the iPod's hard drive does its best to keep up. At 80 GB, the device can hold a month or so of continuous music. For myself and others with large libraries, it's effortless to create Smart Playlists that contain hundreds or thousands of songs based on specific criteria. Navigating those playlists can be nearly impossible as they show naught but a long list of song titles.
In my library, creating a Smart Playlist of Ambient music from between 1990 to 2000 returns 305 songs from 44 albums by 11 artists. Viewing the playlist on my iPod is a jumble of songs. I would love the option to sort and browse the artists and albums in a playlist.
Perhaps, when you select a playlist, the iPod displays an entry at the top of the song list: "Browse this playlist."
Full-screen album art
When in full screen mode, I want the iPod to display album art as large as it can, no margins, no scaling. Just like when browsing photos, I want the image to take up the entire screen. This, the iPod can already sort of do…… if you plug it into an iPod HiFi, Apple's own speaker system. I would like it to be standard. For more, read this recent rant.
Bonus Wishlist
I'm not annoyed by these missing features, but if they were real, I'd find them useful:
iPod Party Shuffle
A more limited version of iTunes' Party Shuffle. When you're shuffling, this would let you see a handful of upcoming songs. You could skip ones you don't want to hear.
Profiles/Pre-sets
My listening preferences are different depending on whether I'm at work, in the car, at the gym, or moseying around the house. At the gym, I like to shuffle by song while at work I like to shuffle by album. When listening to ear buds, I like to use the bass booster EQ, but the bass response in my car is a little heavy, so I like to turn on the bass reducer.
It would be convenient to save different settings configurations for easy switching.
Grouping behavior that makes sense
"Grouping" is the red-headed stepchild of ID3 fields. No one *really* knows what it's for or how to use it. Ostensibly, it's for creating "groups" or subsets of related songs within an album. But it wasn't until iTunes 7 that you could do anything with it (you can shuffle by Grouping).
It seems to me that an effective behavior for songs with the same Grouping to be "always keep these songs together." For example, Mouse on Mars' Varcharz has one song, One Day Not Today, that is broken into 12 tracks. Give all 12 tracks the same Grouping, "One Day Not Today" and the iPod would know to start at the first track and play through all of them sequentially, even when shuffling.
::
Hopefully, one day, these wishes will come true. I still love my iPod, but I'm looking for reasons to love it more.