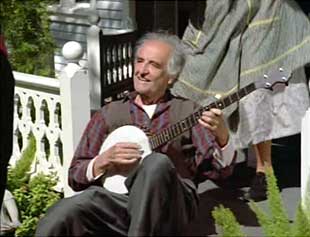 Well, for some reason, almost all of my Star Trek music got pushed toward the end of the tunequest, and believe me, I have nearly all of the Star Trek music except for the unreleased promo soundtrack to the Starfleet Academy video game. If anyone can point towards that, I'll send you a digital high five or something, so the waters around here will be thick with Trekkin for a bit.
Today's little nugget of musical trekdom comes from Jay Chattaway, a veteran composer of the post-Next Generation era with music credits on a total of 182 episodes of the franchise (second only to Dennis McCarthy's 258). Chattaway has been actively writing music for Star Trek since The Next Generation's 3rd season episode Tin Man, which has been cited by many Trek fans as one of his best contributions to the show's musical heritage.
By the time Voyager's first episode began production, he had seven combined seasons worth of titles under his belt (from both TNG and DS9), so it was natural that the show's producers asked him to score the premiere though the show's main theme was composed by Jerry Goldsmith, who won an Emmy for his efforts. In general, Chattaway's scores rely heavily on synthesizers and Caretaker is no different, much to its detriment. There's some good music here, but most of it's lost in a fog of artificial tones, chords and hums. I'm sure it's effective on screen, but as stand-alone music, there's not much that stands out. While listening to it, I couldn't help but imagine it being performed by a larger, fuller orchestra for a more rewarding experience.
In the end though, it's not bad, but it's not great either. Fortunately, the soundtrack has a saving grace other than the Goldsmith theme. It features the complete banjo performance that was used in part of the episode. It's pretty catchy and is probably the most unique two minutes in Star Trek's musical repertoire. The Caretaker's Howdown:
[audio:061219CaretakersHoedown.mp3]