Seriously, I don't mean to be neglecting this place. And perish the thought about it being abandoned. Things have just been busy around tunequestlandia lately. I've not had much time to read this month, much less write about anything.
So, how about a quick RatingQuest update?
Of the 16,282 songs in my library, 8,775 have received a star rating. That's 53.9% Only 7,507 to go for the whole library or 1,225 for my year-end goal of 10,000.
If you're at all interested, here's the pie chart of the current ratings breakdown: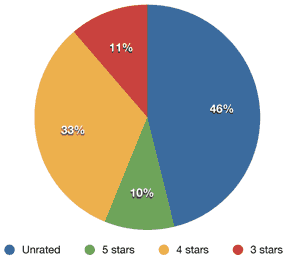 It shows basically what I'd expect: the majority of my ratings are what I consider to be "good" songs, pleasant enough to listen to at any given moment, while 10% are exceptional. Note: I don't use one and two stars for rating purposes.
Anyway, here's hoping I find the time and energy to get back in the publishing saddle soon. In the meantime, feel free to explore the archives or be adventurous with a random page.